Thank you
everyone for your Happy Anniversary wishes, I read them all out loud to Eric. It really brightened our day!
Today is rainy, overcast and chilly. We're a little stressed out about a certain decision we have to reach. It's too complex to describe in a photoblog entry.
So I'll write up a quick recap of Thursday instead. The day of our
4 year Anniversary
was warm and sunny. We had a romantic morning and went out for breakfast. We worked a few hours in the office and left early to celebrate.
We popped open and bottle of champagne in the winter garden
Afterwards we went out to eat at Eric's favorite place. "
The Argentina Steakhouse
". The last time we went there was over a year ago during my parents visit. He has dreamt about it ever since.
The meal was amazing, they were playing an album in the restaurant that we used to listen to in College together. "
Manu Chao
" -- It brought back all these memories.
"Imagine I had decided
NOT
to go to College in America or you had decided to go to a
different
University", Eric said thoughtfully "
We would have never met
..."
"What do you think you'd be doing right now if our paths in life
hadn't
crossed?"
"That's a really scary thought" He contemplated this
We began to describe alternate scenarios, life paths, jobs, living situations. It chilled me to the bone to even envision it. I realized how much he has changed my life, how much he means to me, how we hold eachother up and support each other.
"Actually I
can't
imagine what my life would be like without you. It's too difficult to even fanthom. I feel like you've always been a part of my life." I said quietly.
You know, come to think of it...If I never met Eric..
I wouldn't even be typing this entry right now
. The reason I started an online blog in the first place was to document my experiences abroad and keep my sister updated.
After desert we went to see an English film showing in CineStar. "
The Inside Job
". (
A surprisingly good film
). We returned home and lay in bed talking until 5 A.M.
****
When Eric saw the photos of himself in the previous entry, He started laughing "Oh man!! I need a haircut..
BAD
!"
"Well..you
ARE
starting to look a bit like
David Cassidy
..."
"No, My hairstyle is beginning to look more like
Farah Fawcett
!", Eric commented
"It's not THAT bad..
yet
", I laughed
So today Eric walked to the Hair Salon and
had his hair cut
! He did it
on his own free will
. (Unlike last time -- My D-land friends might remember the hair poll of 2005)
It's a drastic change, I didn't even recognize him when he returned. it just cut it all off incredibly short. I nearly fell over backwards. Here is a
Before and After
shot
He looks so much...
younger
. I ran my fingers though the short hair and he looked at himself in the mirror.
"Oh lord..now I look like
Russel Crowe
!", He moaned remorsefully.
"You look fine..trust me!"
He's
not
100% happy with it, but hair grows back. I like it.
I'll leave off with a new video. It was taken a few weeks ago. It's a shot of the church close to our old flat, and Eric walks into the view at one point. This the first time I ever posted live footage of him. So enjoy. Sorry the quality is so crappy and there is no sound.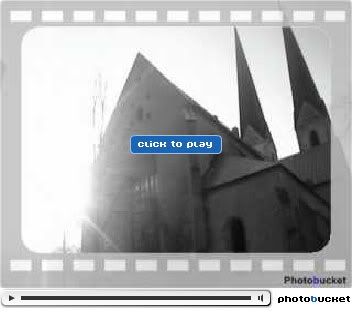 Now, I'm going to catch up on some blogs that I missed this week. I finally have some time online.
One last thing....
Happy Birthday
Becks
. (click on her link to see some cool pics she posted last week that
completely
made my day! - She's a great friend and I'm wishing her the best on her special day!)