Here is the
view from the bedroom window
in our new temporary home...
We went from living in a top story apartment in the middle of town with a view of all the little German rooftops to...
...an underground location.
It's so strange blinking open my eyes in the morning and having 3 huge windows stretching before me with a view of grass, dirt and tree stumps.
It's hard to describe where we're living right now. The only comparison I can come up with is that hidden bunker they discovered in season 2 of the Television show
"LOST"


But let me backtrack...
I left off on Tuesday when our boss was waiting for us outside our apartment building. We had handed in the keys. We had said our final goodbye to our evil landlord, bitchy neighbors and our previous life. The door locked shut behind us and that was the end of a three and a half year chapter of our existance.
When I stepped into the car, I didn't even look back. We had enjoyed that flat, it was the perfect home for two fresh college graduates. But it's time to move on.
***
We drove past old-fashioned wrought iron gates, down a winding driveway leading to a house nestled in the trees.
We followed our boss into the house and down a flight of stairs into the basement.
I figured we were going to be thrown into a musty concrete basement with the cockroaches and rats. There would be the distinct odor of mildew and dust. I didn't expect to see
any
windows... My expectations were pretty low.
I was surprised.
The first thing I noticed were the big windows...then I saw the bed.. Then I saw some of our furniture.
OUR OWN FURNITURE!
It turns out our boss took some of our belongings off of the street and set it up in his basement so we would feel more at home. There was our glass coffee table, our art table, and cabinets. My jaw dropped open. My eyes filled with tears because I was so moved by what he had done for us. I couldn't even find the words. Our boss is nothing short of amazing.
There was also table with a television set, and a stereo in the corner. Everything was arranged with such love and looked incredibly cozy.
Then he led us to another room with a kitchen area. Refridgerater, microwave, freezer, cabinets, washing machine. There were two other rooms and a hallway that led to a separate entrance/exit.
The bathroom surprised me the most. We have our own toilet, sink, big shower and...
a sauna
. (!!)
"I think we just moved up in the world", Eric said laughing "And we thought we'd be
downgrading.
.."
****
There is a garden in the backyard, and in the morning we hear
sheep
now instead of the Churchbells. The distant
baaaaing
sound made me start laughing this morning. so
strange!
What a difference.
I like sitting in the lanai in the mornings with Eric and a cup of coffee. It's such a change of pace.
Here are some pictures of the garden in the backyard
They have a blue shed that is the perfect little hide-away...
I would have loved to have a homemade tree house like that as a child..
What I love most are the flowers
everywhere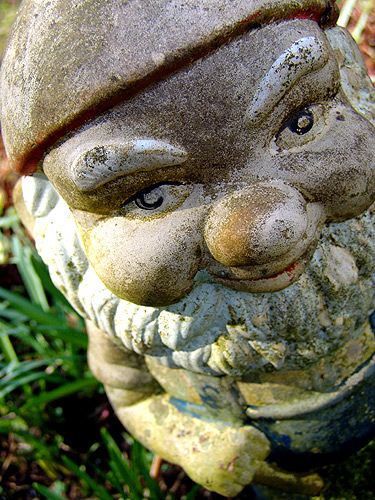 What makes this garden distinctly
German
is the creepy little
garden gnomes
peering at you from every corner...
This is a nice place to be right now. It's making our transition easier. It's a relaxing environment and rather beautiful. We can just lay on the grass and stare up at the passing clouds on the weekends.
The only negative point is
our lack of telephone and internet connection
. I've been really disconnected from my family and friends in the states this week. I didn't realize
how much
I had depended on those two things to communicate with everyone outside of Germany.
As wonderful as it is here, I'm hoping our stay is short. Now we're just
WAITIN
G for Eric's Green Card so we can leave the country. We've decided to wait only
one more week
(we're right in the middle of a big assignment at work) and then we're going to pay the 300 Euros for train tickets to the American Embassy. Maybe if we go there in person it will get the ball rolling a
little
faster. Right now we're just forwarded to an automatic message service every time we call. I have this fear that we've just been shoved in the bottom of a pile and
forgotten
entirely.
****
Yes,

3bubbles
is still up. You can click on this badge link to chat. It says how many people are in the room.