We're
finally
finished with this move,
It's all behind us now
...
I took this photo from our bedroom window on Tuesday morning. The last day in our flat.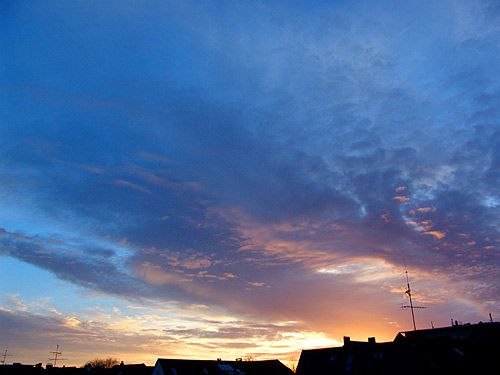 It's strange how
different
an apartment can look once it's entirely cleared out. The furniture removed, carpets pulled off, shades gone, The pictures missing from the walls.
It looked
smaller
.
I expected it to look
bigger
, but instead It just looked oddly small. I noticed stains I hadn't seen before because they were hidden under the carpet, cracks that were behind the sofas..
Walking through the empty flat was sad, It was like looking at a time gone by...an era that had passed. However, I felt myself becoming
detached
.
Last week when all of our belongings were still inside, I
didn't
want to let go.
But once all the furniture was removed, the apartment lost it's magic.
Here are some before and after shots...
Our livingroom:
before:
after:
The kitchen
Before:
After:
Before:
In Germany apartments do not come with the kitchen installed. You have to buy it from the previous owner (which is what we did) and when you move you have to sell it to the next tenant. Unfortunately the next people coming in already have their own kitchen. So we had to tear it out of the wall and remove the entire kitchen from the flat.
That's
what it looked like afterwards...
After:
Not so pretty...
The Studio/Guest room
Before
After
The bathroom
Before:
After:
And
our bedroom
...
After those pictures were taken we pulled out all the
cleaning supplies
and wiped down the entire flat from top to bottom. The windows, the radiators and the floors. (
As you can see, everything was pretty dirty , there were six additional sets of muddy feet moving through our flat to transfer everything to the curb this weekend.
) It took 5 hours and it looked as new as when we first moved in.
Our landlord came and inspected the flat. He didn't seem to care much about most of the rooms. He just cared about the
bathroom
. He knelt down over the toilet and inspected it with a
flashlight
.. then he did the same with the shower. We watched him in amusement.
"It's not clean
enough
", He said. "
Look
..if you peer underneath the rubber that connects the shower doors to the base..there is some
dirt..see?
".
We just stared at him.
"I'm going to have to remove 160 Euros from your deposit for cleaning fees."
Whatever.
We handed in the keys, and the landlord shook our hands.
So that was it.
We trekked down the stairs and saw Our neighbor, Mr. Streit for the last time. He was there glaring at some of the bags we had left at the base of the stairway. I smiled at him and he shoved past me angrily. Muttering something about "
shit
". Eric and I looked at each other and smiled.
I needed to see our evil neighbor one last time to
remind
me not
EVERYTHING
was perfect about living here. I definitely will
not
be missing our landlord OR the old neighbors.
It was sunny when we stepped out the front door. I watched it slowly close behind us..and lock shut. It was weird for a moment to think that we no longer have the keys...
Our boss was waiting for us in his car.
*****
Our belongings are on a ship heading to America. It will be held in storage there until we arrive.
This was a picture taken yesterday at the docks.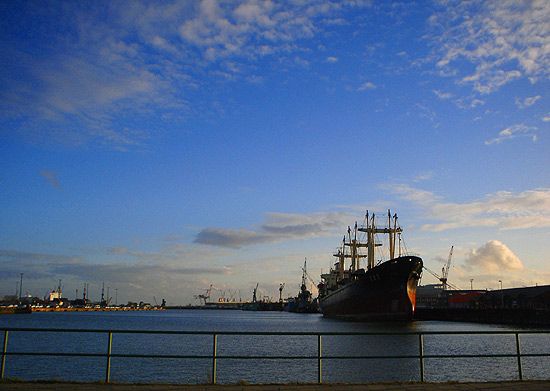 The Man who runs the shipping company took us out to eat at a restaurant called "
The last stop before New York
" -- it was in Bremen. The meal was amazing...
Our belongings are in good hands and insured for 5,000 Euros.
Now we're just waiting for Eric's GreenCard. (
still.
...) and we've moved on to our next location in Germany.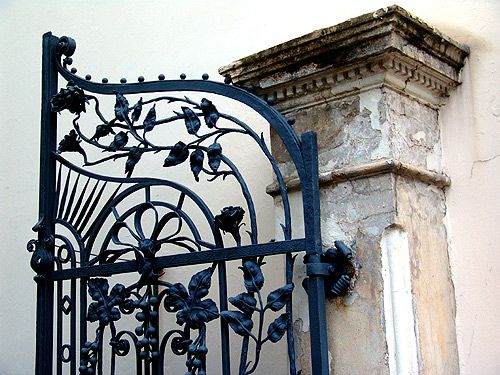 But that's for another entry. It's time to leave the office and I don't have internet connection where we're living. But more on all that later. I only have 5 minutes to upload all these images and post this. This weekend I'll be able to use the internet for a longer stretch of time and catch up with everyone.
I feel like a huge weight is off my shoulders with this move behind us. It's kind of liberating to detach yourself from everything and start anew.
I'm beginning to look forward to the future and I wonder what lies around the corner...