I woke up this morning feeling sad.
It's our last day.
Eric and I grabbed our morning coffee at a cafe called "The Nook" and drank it on the roof.
We sat there for a long time afterwards and gazed at the city of San Francisco.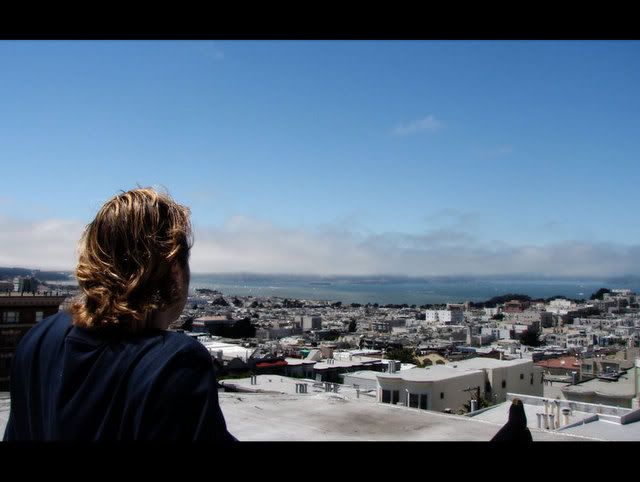 John was feeling low.
The weather began to change. It grew colder and more window. The apartment walls creaked and the wind from the open window blew papers off of John's desk.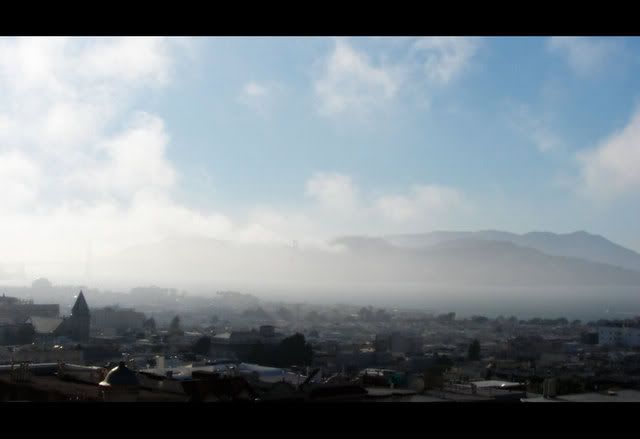 It looked almost eerie and surreal. The tufts of thick clouds rolling over the city..
We spent most of the day inside John's apartment, talking...
Later on in the afternoon, I cleaned up the flat. It was a a bit messy from 3 nights of non-stop partying. Eric and John did some laundry. We also did some grocery shopping.
This was not a day for sightseeing. We had deeper issues to discuss about life..love..death..the future...
There was an overwhelming feeling of melancholy in the air.
As the evening progressed, the mood improved. We stayed up all night talking. We decided not to sleep because we had to leave so early in the morning to catch the flight back to New York.
We ended up laughing so hard my sides ached and tears spilled down my cheeks. It involved a cat falling off a cabinet. It's a long story...
It was such a fun night.
Saying goodbye was hard. The taxi arrived too quickly and we were rushing down the stairs with our luggage. We had to say our goodbye's so quickly...
But sometimes that's easier than drawing it out painfully.
Even though we know we'll be back in September, it was difficult to leave.
We sat in the taxi and watched John's apartment disappear as we turned the corner. The streets were filled with fog.
My eyes filled with tears.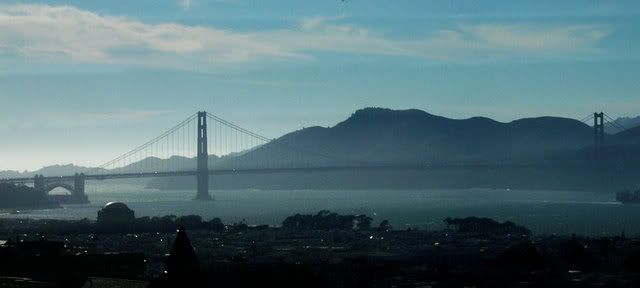 I'm so glad we made this trip.