We overslept.
At
2 O'clock in the afternoon
, I heard the sound of a clanging cable car bell in the distance and creaking in the apartment walls from the outside wind. I shifted awake and sat up slowly. For a moment I felt disoriented and confused. I was lying on an air mattress in the middle of a strange livingroom with open windows. I could see the view of the golden gate bridge and the fluffy passing clouds.
I shook Eric awake. He opened his eyes and smiled. We both leaned against the window frame and took in the view of San Francisco..
Eric went to take a shower and cried out "
Clarity! Come here! HELP!...Can you tell me how to turn on the shower?"
I joined him in the bathroom and we both stared at the faucet. Turn left for HOT and right for COLD. We tried to pull it up, down and around...nothing happened.
But no switch to go from the shower to the faucet. We searched everywhere. Apparently this odd model had the switch located underneath the faucet nozzle. This little attachment that you pull down and twist. We had to have John explain it.
Strangest thing I've ever seen.
Does anyone else have a shower like that? Is it a San Francisco thing?
Then I realized that John didn't have any coffee or even a coffee machine. He simply doesn't drink coffee. That's UNHEARD OF for a New Yorker. I panicked.
I need my daily morning caffeine fix.
So I hit the streets in search of a coffee shop. I headed downhill...
The weather was perfect. Not too hot, not too cool and with a gentle breeze. I could hear some music coming from an open apartment window. A couple of people jogged past me. I'm amazed at how many people in California run instead of walk from place to place...
Then I discovered the
California Street Cafe
..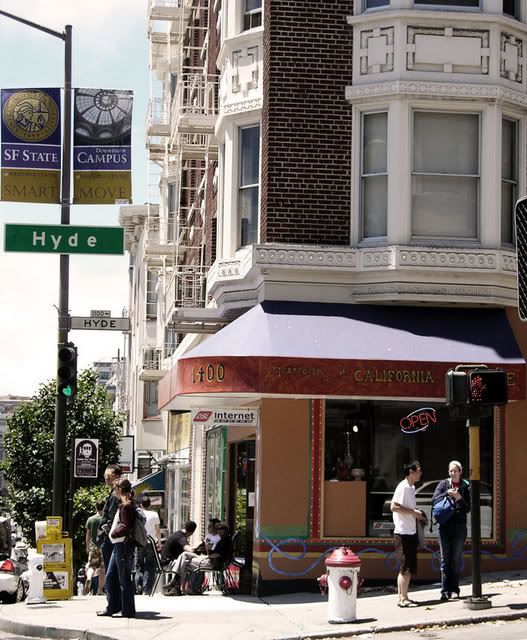 Artsy with wireless internet connection. There were people on the coffee shop sofa's surfing the web on their laptops and a funky woman with beads behind the counter. I ordered a
Cafe latt
e and a
Cappuccino
.
Then I headed back uphill to John's apartment.
We all hung out in his living room, drinking coffee, eating breakfast and chatting for 3 hours..
John wasn't much in the mood for sightseeing but he urged us to go out there and do something. He promised to join us tomorrow. After an hour of pleading with him to come with us.. we accepted his desire to stay at home. "
Just go on, check out San Francisco, have some fun exploring..
." He said "
Here's the keys to my car. I'll take a nap now and we'll all hang out tonight
"
We headed out the front door to take in a little bit of the city for the first time...
But we didn't know where to go. So we just started walking...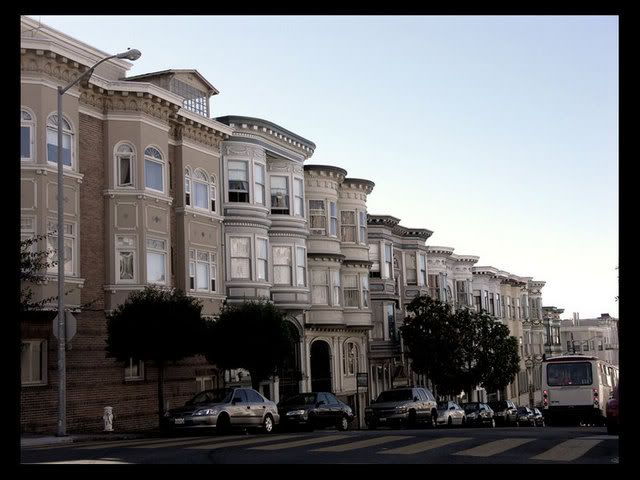 We walked down
Clay street
towards
China Town
...we took a turn on
Powell street
... All the street signs changed to chinese for a while. We just took in the sights and sounds. We had no clue where we were going...but we knew we were heading towards the water..
We stopped at the
Mario's Bohemian Cigar store Cafe
for more coffee...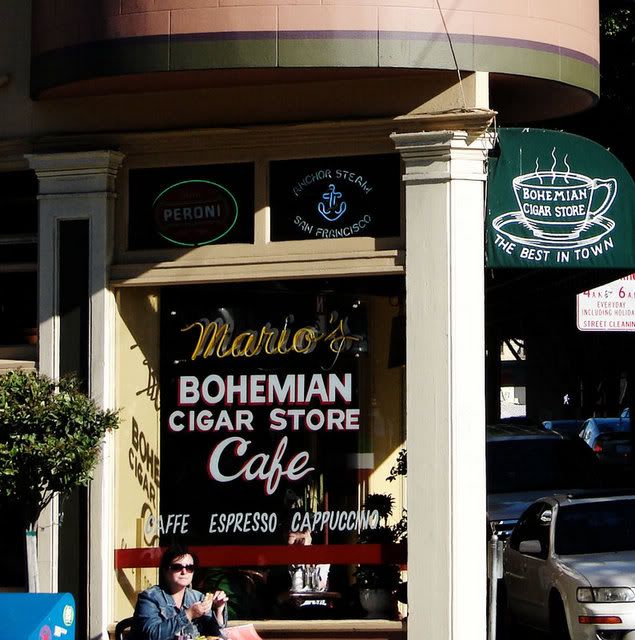 We ordered some Cappuccino's and checked out the map to see where we were heading.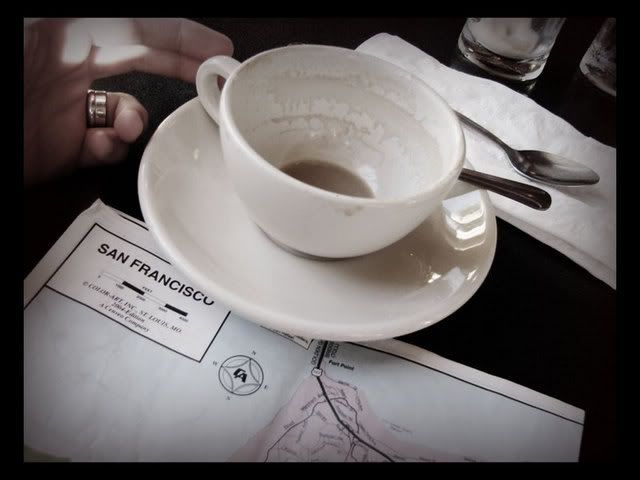 From the coffee shop window, we had a great view of
Washington Square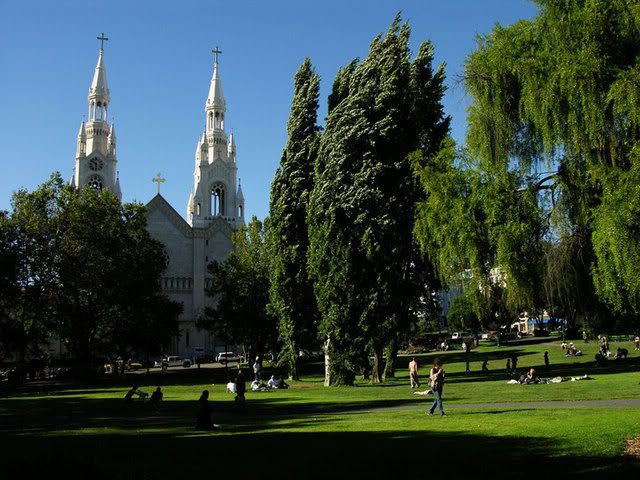 People were lounging on the grass, throwing frisbees, making out, laughing and reading. The weather was so ideal and the clouds were a deep blue.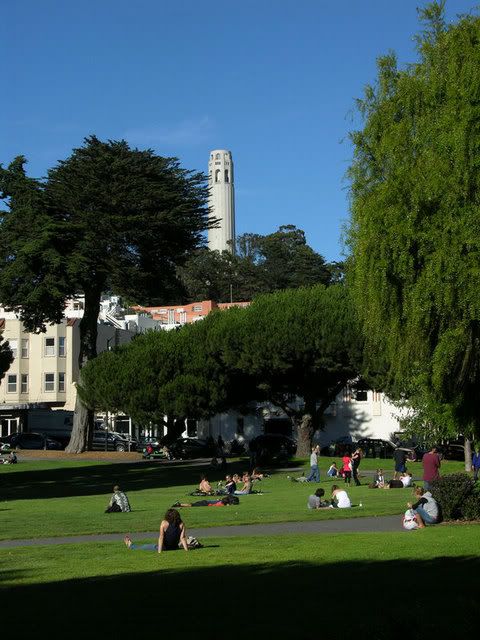 At that moment I felt so good about of our decision to live here in San Francisco.
There's a certain warm feeling in this city. The people are nicer. They seem to be smiling more than New Yorkers. There is more of a bohemian feeling..
We continued our walk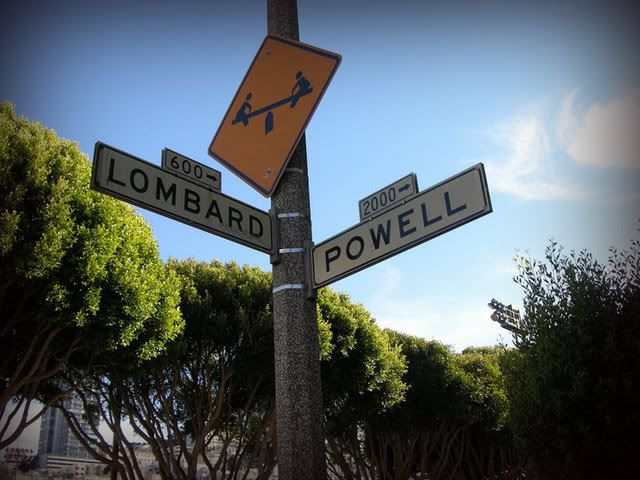 Eventually we reached
Fisherman's wharf
..
There were breakdancers spinning on their heads.. street performers of all types... Horse and buggies... music blasting.. Tourists EVERYWHERE..
We strolled over the docks holding hands and took in the view of
Alcatraz


Seeing Alcatraz for the first time in person really floored me. I've read about Robert Stroud (The "Birdman of Alcatraz), Al Capone and George "Machine Gun" Kelly. Of course, the most recent movie I saw it in was "The Rock"
We wandered on.. Passing the old ships
and went into the
San Francisco Museum
. It had
old coin machines
dating back to the early 1900's and they were all in working condition.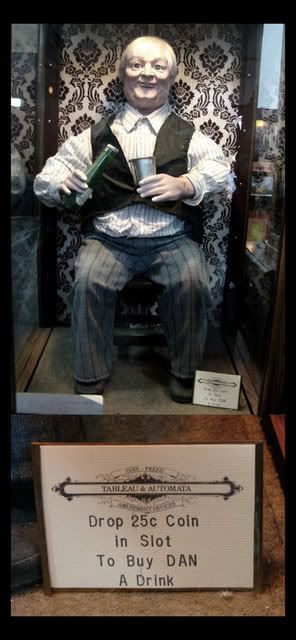 I wasted too much quarters in this place, excitedly running from machine to machine. Getting my fortune read, viewing old moving pictures, playing old games...
The biggest waste of a quarter was on THIS machine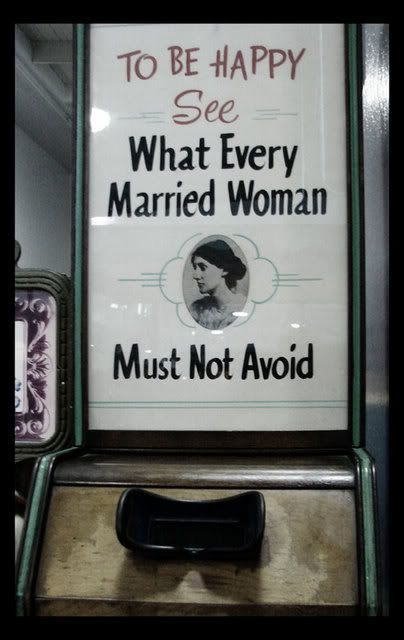 Can you guess what the answer was?
We continued on our way..The fisherman were cracking open crab legs and serving fresh seafood at the market.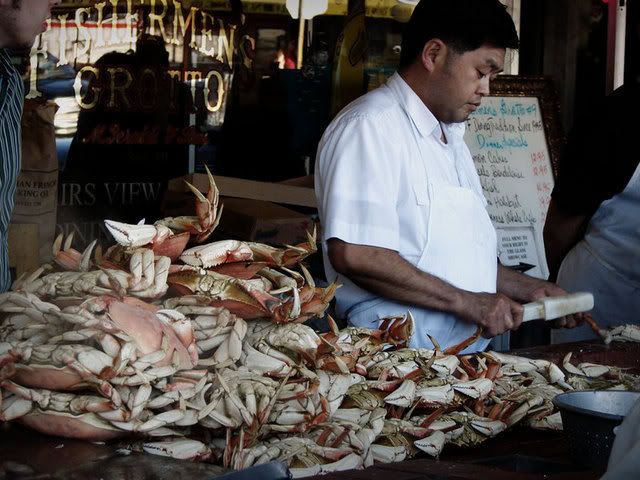 We stopped to eat at
BURGERMEISTER
... Eric ordered a vegetarian Burger and I had a portobello mushroom inbetween two buns.
We walked up the INSANELY STEEP
Lombard street
. I was panting and sweating the entire way up. The street was nearly vertical, you can lean against it when you need to rest during your journey.
But the view was astounding...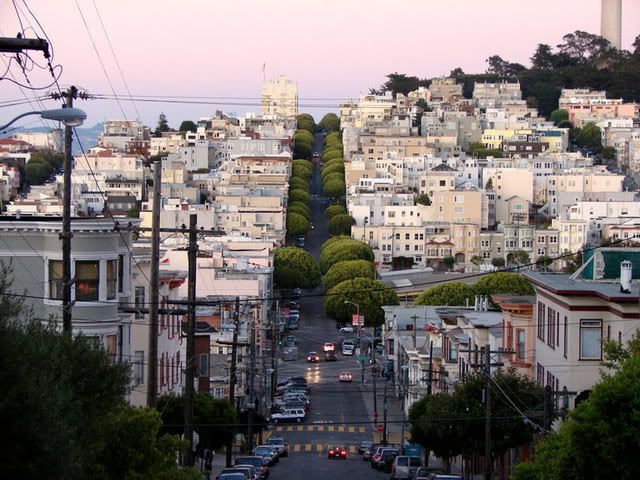 At the top was the famous crooked street that I've only seen in movies and postcards.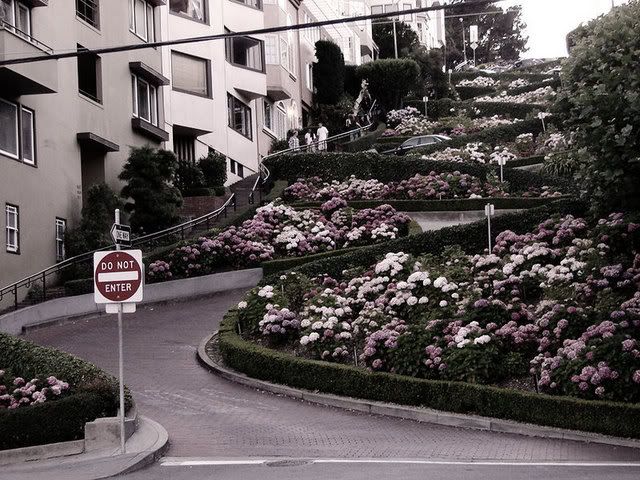 We continued to the very tippy top..I just stood there and took it all in. I can't believe we're going to live here!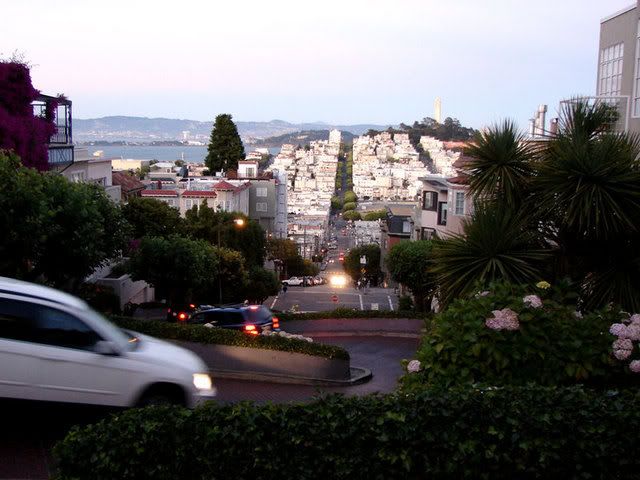 The sun was setting and everything had a warm glow over it. Eric and I held hands and continued up HYDE STREET..
When he saw
"Swensens"
he grew excited. "I went here with my mother when I was only a small boy! It had the best icecream I've ever tasted!!"
We stopped in for icecream. I had a scoop of "Thin Mint", he had a cookies and cream sundae..
We ate our icecream while walking back to John's house. We were both in a great mood. This is our first real vacation together in 5 years. I never knew that 4 simple hours just strolling through the city could be so relaxing and fun.
John was taking a nap. We woke him up and we all hung out together in the livingroom. We caught up on old times, laughed, drank, talked for hours and hours.
I can't remember what time we fell asleep...
It's so good to see John again and to be here in California.