We had to leave for the airport at
1:30 A.M.
in order to arrive 4 hours early to check in for our standby flight so it didn't make much sense to sleep.
Besides, I was way too excited to even attempt to take a nap before the flight. I packed our bags and checked them over and over to make sure I didn't forget anything. I was pacing back and forth across the living room floor wringing my hands while Eric tried to get a few hours of shut eye in.
The airport was filled with sleeping travelers in random cots spread out on the floor, We weaved around the bodies and checked in.
The man behind the desk told us that we were the very first standby passengers to check in for this flight but that the airplane was packed, so we might get bumped anyway. He told us to be patient.
Our Aunt had told us to wear "business Attire" and to look our very best because we were representing the airline. Eric had on a full suit and I was in high heels. We were trying to pull off the "
Mature Professional couple look
" I wonder if anyone was buying it.
4 hours later we were bumped from the first flight.
"
We're sorry, folks. This flight is full to the limit. You'll have to wait for the next one
"
We waited.
2 hours later...
We were once again bumped...
We paced around the airport for another two hours. I was beginning to feel disheartened. Eric kept checking the departure times on the monitors, while I started falling asleep on the table in the airport Starbucks.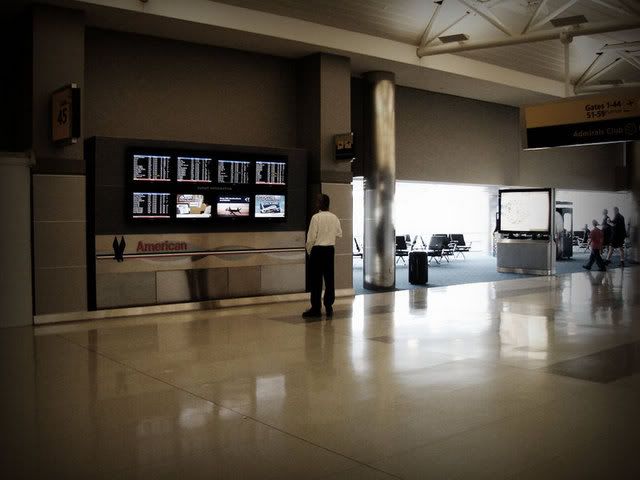 We waited and waited...
Finally we heard our names called on the third flight to San Francisco going out of New York for that day.
"
Mr. and Mrs. Smith... we have

ONE ticket

available in First class otherwise the plane is entirely full. The next flight in 4 hours has no available standby space. Are you willing to SEPARATE? only ONE of you can get onto this flight. I'm very sorry
"
Eric shook his head. "
No we're
not
separating.
"
"
Eric, you should go ahead... I'll just wait here. I'm sure I'll get a flight out at some point. You heard her.. she said that the next flight is full. Go on without me.
" I insisted
"
No why don't YOU go ahead and I'll wait around
", Eric protested
"
I don't want to... You go ahead
"
We were both nearly in tears.
The airline attendant interrupted us "
Wait!!! Another space opened up in First class. You can BOTH get on this flight. But you have to HURRY HURRY!! Go go go!
"
She pushed us onto the terminal and we ran onto the plane.
We were breathless as we fell into our seats. I looked around in amazement. We were in
FIRST CLASS
!! I had never flown first class before. The seats were all leather, with so much space for our feet... They moved down into beds with electronic buttons. An airline stewardess immediately approached us and took our jackets to hang up in the closet.
"Would you like something to drink? A cocktail? soda? wine?"
I could barely speak.
The ride was pure luxury. A 3 course meal, desert, endless beer and wine. They even made the salad right in front of us. I was given a personal entertainment system with movies and music albums I could access by pressing the screen. I had to keep pinching myself to convince myself that this wasn't all a dream
I was exhausted, but it was impossible to sleep. I was way too giddy.
Soon we were landing. Eric and I excitedly peered out the window at California below us. The sky was clear until we approached
San Francisco
, then we saw fluffy clouds obscuring our view. As though we were entering NEVERLAND from Peter pan, a mystical Island.
We were here, S
an Francisco International Airport.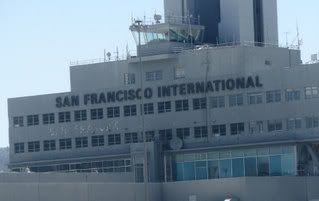 When we exited the plane, we could see the mountains around us through the airport windows.
"
We're here!!!! We're here!!!
" We were high from all the wine and coffee served on the flight. Eric was laughing.
We picked up our luggage and took the sky train to the
BART
subway system. We bought tickets for a train that would take us from the Airport into
DOWNTOWN SAN FRANCISCO
.
We ended up in
POWELL STATION
20 minutes later.
When we walked up the steps from the BART subway station onto
Powell street
... I saw a cable car for the very first time. I knew we had finally arrived in San Francisco.
They bustled loudly up and down the steep roads, the bells clanging. People were jumping on and off. Street performers were on the streets, people weaved around us. There was so much energy in the air.
We just stood there taking it all in.
I couldn't believe we were actually here!
We decided to attempt to walk to John's house from the BART station even though we knew it would be a bit of a distance.
We stumbled up the hills dragging our luggage behind us. My high heels made me unsteady and I had a hard time navigating. I kept gazing around in awe and losing pace. The weather was hot and my suit jacket was making me sweat. Finally we reached the top of the hill..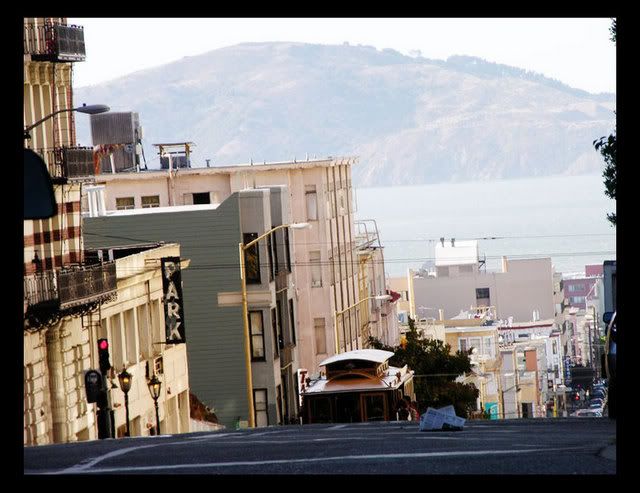 We could see the water and the mountains in the distance. It was beautiful... but I knew I couldn't make the rest of the walk. I was leaning against the building entirely breathless...
We finally caved in and took a taxi the rest of the way.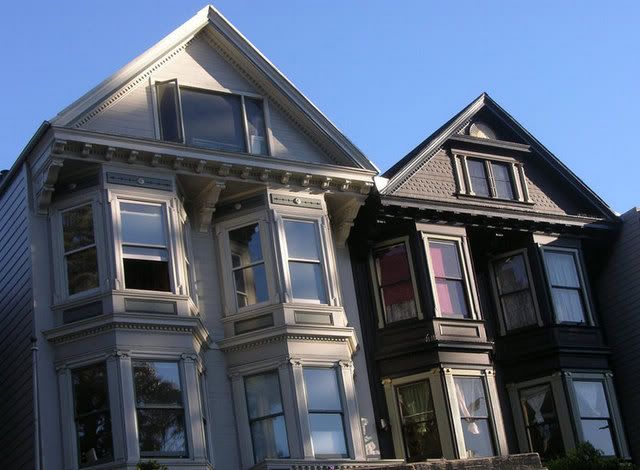 John greeted us on the street and ran up to give us a hug. It was incredible to see our good friend again after over 5 years of being separated. He looked exactly the same as we remembered him.
He helped us take our luggage up all the flights of stairs leading to his top story flat. "
There is no elevator
", He explained "
This is an old house dating back to the early 1900's
"
His apartment was wonderful. Hardwood floors, a new kitchen and one room that just had big windows on all sides. He pulled open the blinds and showed us the view.
I just gasped and stared.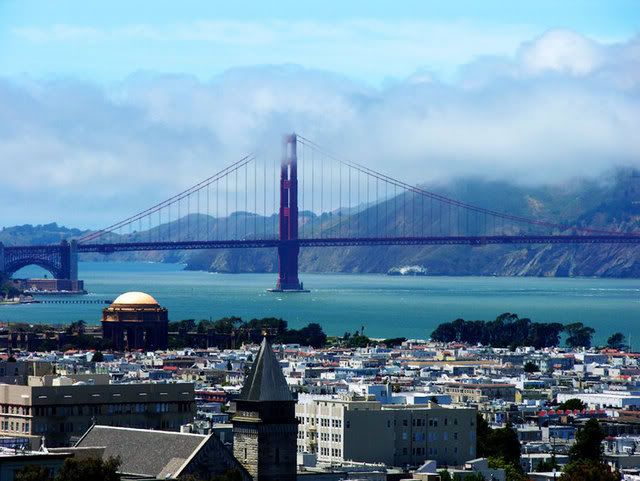 It was mind-blowingly
beautiful
. I was seeing the golden gate bridge for the first time. A gentle breeze came in through the window and I could hear all the sounds of the city below. It was like living on the top of the world.
I felt so happy and speechless at that moment. It all felt like a dream.
We changed into more comfortable clothing and all sat together in his livingroom. We had so much to talk about and catch up on.
Afterwards we went to chestnut street and had dinner at a restaurant called "Skewers", at least I think that's what the name was. I was too overwhelmed at the fact that I was in San Francisco to register much else. I had honey mustard chicken.. It was delicious. We also drank wine.
We returned to his flat and just lounged there all night, drinking, talking, laughing...
I fell asleep (after being awake nearly 48 hours straight) eager to see what the rest of the city had to offer... It was just the beginning.
End of DAY ONE.
Day 2 coming soon...