It's 7:30 A.M. Central time and I'm sitting in a motel room in Moline, Illinois.
Population 43,768 and home of the "Quad city steam wheelers".
That's all I know about this city. It's a mystery to me. This is my first time in Illinois. We arrived last night at 11:30 P.M.
The Sunlight is streaming through the sheer curtains. Eric is still sleeping and he looks so peaceful all nestled in the sheets. The Motel room looks like a tornado hit it. Clothing scattered, sheets thrown, open suitcases...I need to clean up because We have to hit the road again soon.
We traveled through 3 states yesterday and we hit the 1,000 mile mark of our journey at 9:29 P.M.
I still can't believe we're on this road trip. Sometimes I have to pinch myself to confirm that it's truly happening!
****
Yesterday morning hit the road later than planned because we decided to explore
Newton Falls, Ohio
a bit.
Something about that small town in the middle of nowhere completely fascinated me. The Main street area consisted of only a strip of store fronts. The flowershop, the Barber shop, the giftshop, the Notary, the church, The Jeweler, a restaurant and a cafe.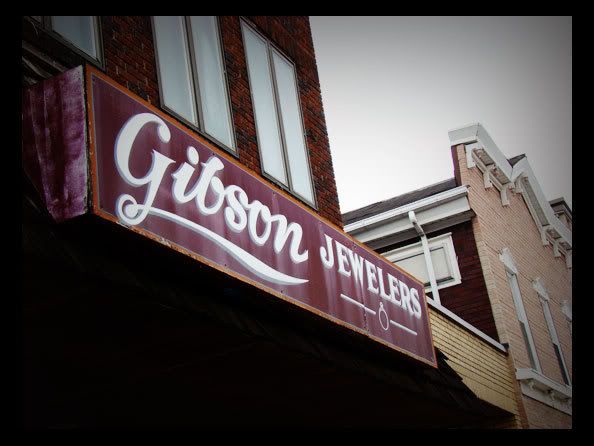 People waved and said "good morning!" as we walked by. The people in the Barber shop watched us curiously from the window.
We bought some coffee at the town cafe called "
The Brew Basket
". There was a group of older women gossiping and sewing a quilt. They gazed at us when we entered and whispered amoung eachother.
The lady behind the counter was all smiles and greeted us warmly. She asked us where were from. We explained our road trip from New York to San Francisco. This prompted her to tell a story of a man that traveled into Newton falls two years ago that was on a bike trip cross country.
The older man preparing our coffee took a very very very long time, but it was the best coffee I've had in a long time.
We drank our coffee and left little Newton falls,Ohio to continue our drive to California.
****
At 1 P.M. we reached Cleveland
. Tall buildings, business men weaving around the traffic, the massive stadium. The radio stations got better too. I've only read about Cleveland in books, so it was exciting to see this city in person for the first time.
We stopped in
The Hard Rock Cafe
for lunch.
Believe it or not, this is the very first time I've entered a Hard Rock Cafe in my life. I've always wanted to, but never had the chance. I was completely thrilled. I gazed around at all the memorabilia from some of my fav. musicians and listened to the pounding music.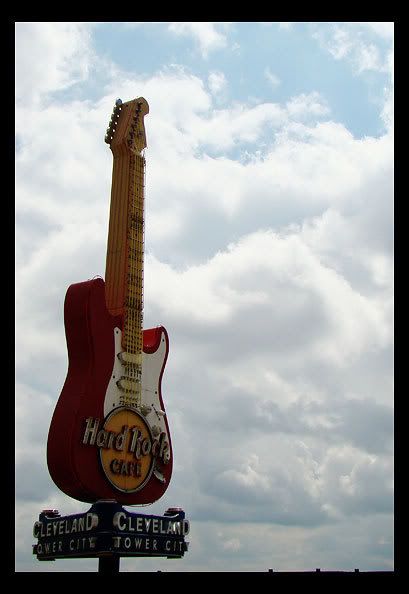 When we hit the road again, the landscape changed again... the city disappeared and we were confronted with flatness.
Miles and miles of open road, blue skies, Fluffy white clouds and fields of corn. It just went on and on for as far as the eye could see. It was utterly surreal.
Every radio station played country music. We drove for hours on this seemingly endless stretch..It was so relaxing. Sometimes we wouldn't speak, just held hands and took it all in. I put up my feet and enjoyed the sun.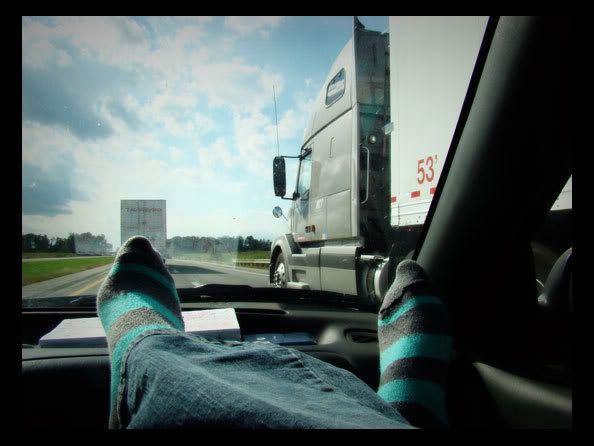 At 5:00 P.M., we reached
INDIANA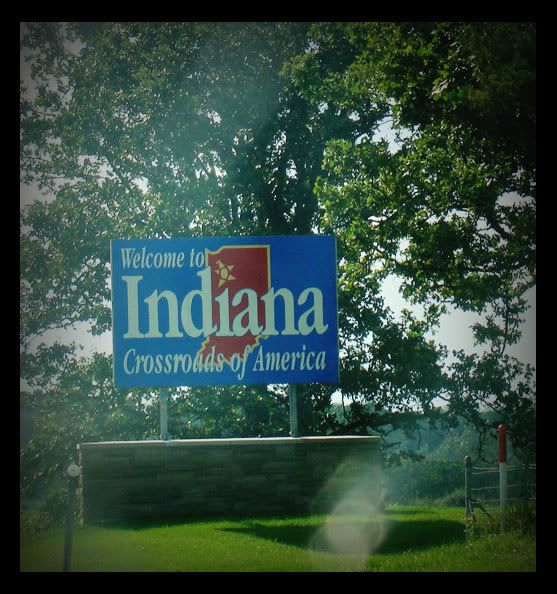 A few more hills emerged on the landscape but that was about the extent of the difference. It was more road, more fields, more cows and Barns dotting the horizon.
8:03 Eastern/7:03 Central time
- (At some point the time switched over...suddenly my cellphone clock went back an hour)
We reached Illinois.
Such a difference, more traffic, more buildings, billboards, signs.. The sun was setting and the sky was a warm orange..
We stopped in
Chicago
, Illinois for dinner (Navigating around was insane and stressful) and then continued on our way.
we read to eachother, talked, listened to music and drank non-stop energy drinks to stay awake..
At
11:30 we hit Moline, Illinois
and got lost. Which caused a lot of bickering. "
you're holding the map wrong! Let me see that! Go left! no...not that way! Where ARE we?!
" Eventually we found our motel and lugged our bags inside. Then collapsed on the bed laughing in utter exhaustion. .
This motel cost 5$ more than the last one and is ten times nicer.
We got into comfortable PJ's and drank some Coronas. It was such a relief to stretch out our legs and feel the comfortable mattress beneath us.
We're almost half-way to San Francisco! Time to hit the road again.

I'll update again from our next stop off point