The topic for
thursday challenge
today is "
Round
"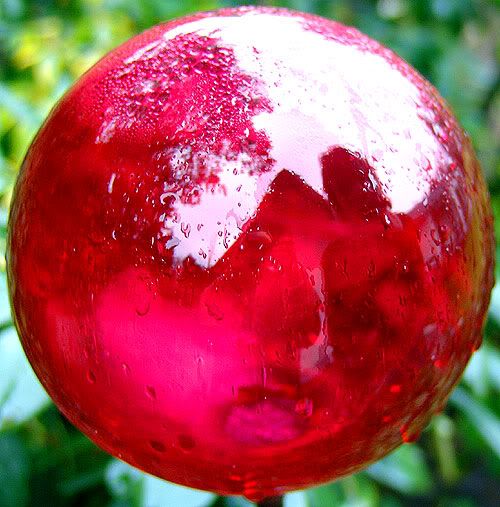 I snapped that picture today in the Garden just before we headed to work this morning. It's one of the many ornaments and crystal balls scattered through out. That's me and Eric in the reflection.
Today was a rainy cold, wet, and damp day...
The sun emerged from the clouds for a few minutes during my walk to the grocery store this afternoon.
I took a photo just before the threatening clouds once again rolled over and it began to downpour. I ended up getting
entirely drenched
. I returned to the office soaking wet, with water dripping off the tip of my nose and my shoes squeaking loudly. I kept sneezing..my
allergies
are acting up horribly and I feel like crap. It
hasn't
been the kind of day I feel like recapping in detail.
****
"
Cha Cha
" came to visit us again at
4:30 A.M
.
I heard her paw tap the window and her sad little meow. This time I didn't move the curtain, shift in bed or make a single sound. I just lay there frozen.
She meowed for a few more minutes, then she just gave up and sauntered away.
It's
heartbreaking
, but it's not my permanent home. I can't do anything, she'll have to settle for her wintergarden bed. I'll bring it up with my boss when he returns from Easter vacation.
This morning we made it up to her by feeding her some gourmet Sheba cat food and petting her for a long time while she purred. She seemed content and gazed at me with half-open eyes.
oh, and you know what they say about cats and dogs?
Dogs have masters, cats have staff!
-Spinster
So true...
After receiving notes and E-mails about the coffeemaker in my previous entry and everyone insisting it was a
French
, I looked at the box again.
The German packaging insists it's a "
Brazil Coffee press
" -- I'm trying to figure this out.
"No, It's definitely a
french cafetierre
", One of my German friends said. "You should write to the company and correct them."
But what's the difference?
****
Since I feel really under the weather today and tomorrow we have off for Good Friday... I thought we would run over to
Karstadt
and get a new boxset. I'd love to just lay in bed with a wad of tissues and relax with a good T.V. series. The problem is: I'm not sure which one to get? To give you the line up of our previous T.V. boxset adventures. Over the past months we've seen:
The Muppetshow, Lost,
and
Dallas.
Our friend recently lent us
O.C. season 2
. As great as it is to make fun of the superficial problems of rich kids in Orange county. It
gets old
very fast....
I've been away from America for a while and I'm out of touch with the new shows of today. I'm clueless.
Maybe you can help?
Which television boxset out of the following line up is the BEST choice?
(these are the ones that are mentioned most often in everyone's blogs - so I'm assuming these are the greatest shows out there - also they are the ones with the biggest
resale value
on Ebay.)
1. Desperate Houswives
2. Greys anatomy
3. C.S.I.
4. Sopranos
5. Nip and Tuck
6. Law and Order
(No I haven't even seen this show yet either..yes I'm
really
behind)
Any help would be appreciated.
Greencard update:
still waiting....