"Its amazing how the World begins to change through the eyes of a cup of coffee.."
I realized this morning that
I'm addicted to coffee
just like my mother. Growing up I used to watch my mother perform her morning ritual. The first place she went to was the coffee machine. Her eyes were half open and her expression knitted into a frown. I knew that until she had that cup of coffee, it was better not to utter a word. (or risk potential death)
My mother watched the coffee drip. When the canister reached one cup, she would pull it out and pour it into her cup. She took a sip...
....and her entire expression changed. The light went back into her eyes, her features relaxed and she would suddenly notice my presence. She would cheerfully say "
good morning!
"
The day had officially started.
In the beginning we didn't have a coffee machine in our new temporary home, and the day didn't start off right. I knew we
couldn't
afford to dish out 40 euros for another machine right now, but I found a subsitute "
Brazil coffee press
" in town for 9 Euros.
Now making coffee is a new experience.
We have to boil water, than pour it into the canister that contains 8 spoonfuls of coarse ground coffee. We have to stir it for 4 minutes..then push a filter into it. It takes a lot of muscle to make it reach the bottom...especially when you're half-asleep.
But It's worth it.
It makes the best coffee I've ever tasted in my life.
Does anyone else use one of these things?
This is the first I've seen of this kind of miracle contraption.
****
Last night at
3 A.M
., I heard a pitiful little cry outside of our bedroom window..
I sat up in surprise and pulled back the shades. There was "
cha cha
". Our boss's children adopted a stray cat and it wanders around the property. They feed it and play with it. They just call it Matzi (which means "The cat").
Tara
suggested the name "Cha Cha" and
it stuck
.
The Cat was peering at me in the darkness with
large sad eyes
. He pushed his paw against the glass and gave me a
pleading look
. "
let me in...
", He meowed.
"Eric.. The Cat is outside..can I let it in?"
"nope..", He mumbed into his pillow rolling over in bed. "we were given explicit instructions
NOT
to. She has the Winter Garden/lanai with food and a bed. She's
not
allowed in the house at night"
"But
look
at her...do you hear those
cries
?"
"I hear it alright and Our boss had warned that she would try to melt your heart. Close the shades, come back to bed"
I reluctantly lay back down, and listened to the sad little sobbing meows.. it didn't stop and only grew more heartbreaking and persistant. I could see her silhouette through the blinds..that
one little paw up..
I shut my eyes tightly and covered my head with the pillow.
"
Meow...Meow..Meeeeeeeeow.....meow...MEOWWWWW!!!!!!"
"Oh
god
", Eric mumbled rolling his eyes. "Now she
knows
we're here..we'll probably have to deal with this
every
night..."
It went on
ALL NIGHT LONG
..
I barely slept.
The next morning, I saw "Cha Cha" on the patio. I called to her and she refused to turn around. She just sat there with her back to me with an indignant expression.
Not that I blame her...
Eventually she came around. she's such a beautiful cat.. I just don't know what to do if the night time crying starts up again tonight. What would
you
do?
***
It's fully spring and I love the weather. Fluffy clouds and deep blue skies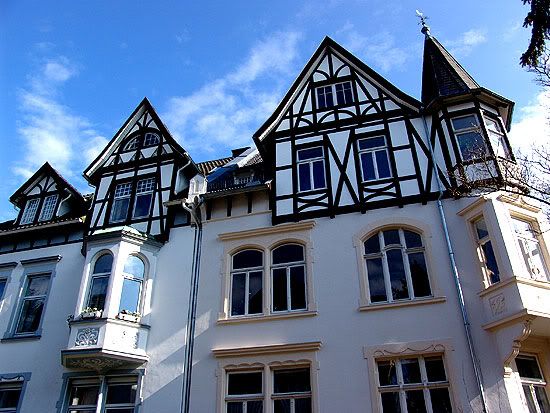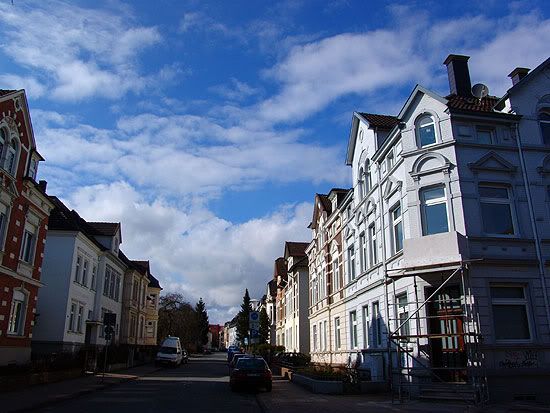 Unfortunately spring also means
Allergies
. Mine are starting up. As I type this my eyes are watery and my nose is congested. My entire face itches.
Green Card Update:
Nothing new to report.
Still waiting
.....