Arachnophobia
is a specific phobia, a fear of spiders. With an estimated half of all women, and one fourth of all men in the United States, it is among the most common of phobias.
"...Recent studies of spider phobia indicate that fear of spiders is closely associated with the disease-avoidance response of disgust. It is not immediately clear how spiders might have become associated with this response, although examination of the relevant historical literature does indicate a close association between spiders and illness in European cultures from tenth century onward. The development of this association between spiders and illness appears to be closely linked to the many devastating and inexplicable epidemics that crossed Europe from the Middle Ages onwards. Spiders were found in great numbers in the same areas of the house where rats lived. The fleas on these rats were actually the carriers of the plague. Not the spiders but the fear was passed down through our culture."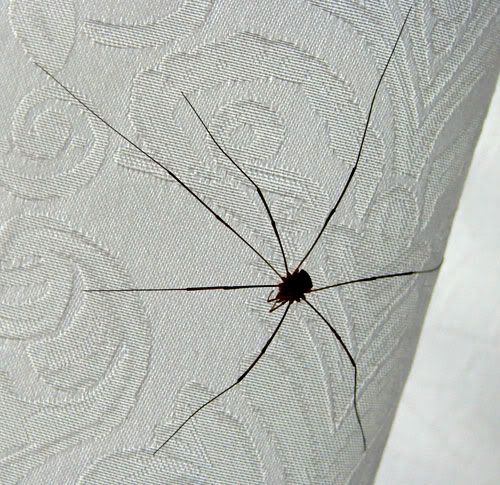 Eric doesn't understand why the sight of that spider (
actual size
) caused goosebumps to shoot up my arms this morning. I couldn't stop the initial impulse to shrink away when I laid eyes on it. It was too close for comfort and twitching it's legs. Not the first thing I want to see when I first wake up and roll over in bed.
"
oh my god...it's huge..
", I whispered. I rubbed at my upper arms. I felt like I had to brush off invisible spiders that were beginning to crawl over me.
"It's just a cute Daddy Long Legs, they're harmless"
"that's not cute...look it has
fangs
"
Eric just laughed. He reached over and let it crawl rapidly onto the palm of his hand.
I jumped back and pressed my body against the wall. "Don't you dare come near me with that thing!"
"What...like
this
?"
"AAAAAAAAAAAAAAAAAAAAAAAAAAAAAAAAAAAAAAAAAAAAAAAGHHHHHH!!!!!!!!!"
That was my morning.
I don't understand why the sight of any spider evokes terror inside of me and causes no reaction within Eric. His expression doesn't change... He's fearless.
I wish I could be the same.
It's pouring right now. The cats love to sit on the windowsill and listen to the rain splashing on the leaves outside. They press their face against the screen. Fiona is making bird sounds again...