This is
Fiona
:
For a long time I simply called her
"Evil Cat"
and the name fit.
About 2 and a half years ago my brother's ex-girlfriend bought her into the house. She was a stray kitten from an animal shelter. We were just going to nurse her back to health and return her to the shelter for adoption. My youngest sister fell in love with her and she ended up staying in my family's home.
She had this habit of hiding under the bed while you were sleeping. I would wake up in the morning, drop my feet over the edge of the bed and a little black paw with gleaming claws would swipe me. The scratches on my ankles bled and swelled up. She
stalked
everyone in the house like a little panther. She hid only in the shadows and waited to pounce. It was unsettling.
Once I was on the computer and she lept at me from across the room. She dug her claws into my back and slid down. I started screaming in pain. Everyone in the house has battle scars on their body from Fionna.
As she grew out of her "
Mischevious Kitten years
", she began to calm down a bit. She stopped hunting us. She began to cautiously approach members of the household while purring and looked at us with wide accepting eyes. We would pet her and as long as we didn't touch her stomach, she wouldn't scratch. But the minute our finger grazed over an area that she didn't want (which changed on a daily basis), she would extract the claws or bite.
I can actually lift her up now and she doesn't attack me. However, she still has a number of issues.
1.
She's skittish and fearful. If you approach her, she will bolt away. She moves so fast away that she often crashes into the wall trying to escape even though we're just trying to pet her nicely.
How

do you get a cat to trust you? Did anyone else have a pet like this? How did you overcome their fears and build a bond? How can you get a cat to relax?
There must be a way.
2.
She still scratches and bites.
Is there anyway to train her not to do this without having to remove her claws?
She doesn't attack guests or anything. She mostly hides in corners from them, but at night she has been known to chew on our feet. (and it's not the greatest way to wake up)
Fiona was discovered as a helpless newborn kitten on the side of the road crying. Apparently the litter had been abandoned by the mother or the previous owner I know her behavior has a lot to do with her background.
She gets along fine with Michael. In fact, One night we heard her screaming at the bathroom window. These extremely loud cat sobs. When we opened the front door, Michael came in. He was soaking wet from the rain. Apparently he had wandered out when the backdoor was left open and was accidentally locked out. She alerted the entire household of this. She is extremely attached to him.
She also has a "special" relationship with Percy, but I'll get into that another time.....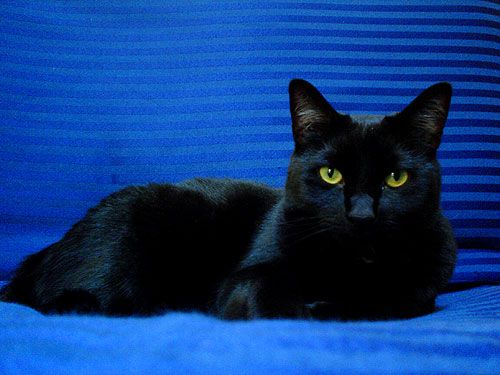 *this is a

rare

close up candid shot of Fionna. It was difficult to get. It required moving extremely slowly and easing up the camera over the edge of the sofa soundlessly. It's a one shot deal with her. The minute she hears the click, she bolts.*
Her unique cat talent:
. In the early morning hours, she sits by the kitchen windows watching the birds and makes bird sounds. She actually chirps.
It's the weirdest thing.
*****
Thank you for your advice on
Michael
(
see previous entry
). I wrote all the suggestions down and I'm going to try them all. I really appreciate that. I'll let you know how that goes.
The one suggestion we received the most was to take a
waterbottle
and
spray him
when he tries to knock over a cup.
We tried this years ago and discovered that it didn't help at all. In fact,
he enjoyed it
. He leaned towards the nuzzle and turned around so we could get his back as well. He loves water and he tends to step into the shower with us. We have to shoo him out. I told you that he's
strange.